The Best Hot Dogs in Orange County
While there are many stories about where the best hot dogs in Orange County were first served,  it's more than likely our first hot dog here in the U.S. can be traced back to our German immigrant families, who in the 1800's not only brought sausages with them (yumm) but what was then termed "Dachshund Dogs" as well.
(See below for a list of delicious Hot Dog eateries.)
The name Dachshund Dog is said to have started as a fond joke in reference to the German's beloved Dachshund breed who's small, long thin body reminded them of their tasty type-sausages.
According to Barry Popick, a prominent hot dog historian (yes there is such a profession) the term hot dog began popping up in college magazines in the 1890's. Vendors would pull their wagons outside Yale University and thus, the students started to refer to the wagons as "dog wagons".
CARL KARCHER OUR VERY OWN HOT DOG MOGUL
And did you know that our own Carl Karcher started his now-famous Carl's Junior from a hot dog cart on the corner of Florence and Central in Los Angeles?  Yes, that's right, he started with hot dogs…not hamburgers! Perhaps he was the first one to create the best hot dog in Orange County. But oh, I digress.
Another hot dog historian…(OMgosh, I think I've missed my calling,) by the name of Bruce Kraig, states that a cartoonist for the New York Journal, observed hot dog vendor Harry Stevens selling hot Dachshund sausages at the New York Polo grounds.  During the game, Stevens went through the stands yelling: "Get your red-hot Dachshund Sausages!" The cartoonist in turn drew his illustration of a dachshund dog nestled in a bun with the caption "Get your hot dogs."  To this day, a copy of the infamous cartoon has not been found, but the legend still stands.  Truth is…the Germans have been cited as selling their little dogs in a bun from pushcarts in New York City's Bowery since the 1860s. Around 1870, a German immigrant by the name of Charles Feltman opened the first hot dog stand on Coney Island. And sold over 3,600 frankfurters in a bun that year. Could this be the first Coney Island hot dog?
HOW DID THE HOT DOG FIND A BUN?
Supposedly during the St. Louis "Louisiana Purchase Exposition" in 1904, Anton Feuchtwanger,  a Bavarian hot dog vendor, would loan his white gloves to his patrons to keep them from burning their fingers while holding the hot dogs.  Because it is said, that the patrons did not return the gloves, he asked his brother-in-law who was a baker to provide a long soft roll to fit the dog. And there you have it…believe it or not.
In 1893, it is said that Chris von de Ahe, the owner of the St. Louis Browns, and a local bar owner, introduced the hot dog at his games, and others say it was Harry Stevens, a hot dog vendor at the New York Giants baseball stadium, who turned them into a national favorite.  The choice is yours.
In 1939, King George VI of England and Queen Elizabeth made the first royal visit to the USA. Franklin D Roosevelt and the First Lady hosted a picnic.  Eleanor Roosevelt asked the White House Chef to serve hot dogs.
Wherever its beginnings, the hot dog made its way across the country and became part of our American culture.  To this day, it is still the number one choice of BBQ'ers nationwide on the 4th of July.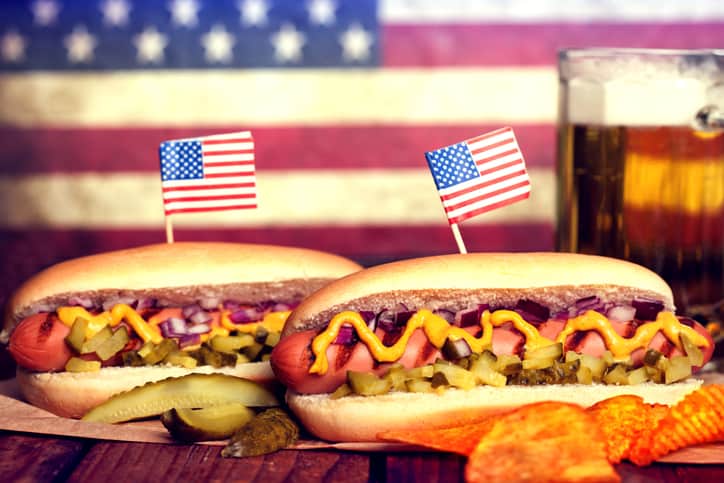 Whether these amusing and uncanny stories are fact or fiction, it is indisputable that the hot dog in all its many variations is here to stay. And so that is why we have dedicated this blog on My Local OC to those Orange County restaurateurs who have decided to stake their claim as having The Best Hot Dogs in Orange County.  We hope you will try them out, tell them you found them on mylocaloc.com, and send us a pic or two of you enjoying your own Dachshund Dog in a bun.
See you around the OC!
Written by: Patricia Brau
| | | | |
| --- | --- | --- | --- |
| Dogzilla Hot Dogs Food Truck | 16221 Construction Circle West | (714) 805-8857 | dogzillahotdogs.com |
| Just Hot Dogs | 15223 Beach Blvd, Westminster, CA 92683 | (714) 379-5200 | |
| ChungChun Hotdog | 9760 Garden Grove Blvd, Garden Grove, CA 92844 | (714) 583-8099 | |
| Pink's Hot Dogs | 1065 Brea Mall, Brea, CA 92821 | (714) 390-9352 | pinkshollywood.com |
| Gourmet Hot Dogs | 401 Newport Center Dr, Newport Beach, CA 92660 | (949) 499-1030 | gourmet-hotdogs.com |
| Portillo's Hot Dogs | 8390 La Palma Ave, Buena Park, CA 90620 | (714) 220-6400 | portillos.com |
| Pacific Coast Hot Dogs | 3438 E Chapman Ave, Orange, CA 92869 | (714) 744-1415 | pacificcoasthotdogs.com/home |
| Burntzilla | 14413 Culver Dr, Irvine, CA 92606 | (949) 392-5995 | burntzilla.com |
| Cupid's Hot Dogs OC | 106 1/2 N Harbor Blvd, Fullerton, CA 92832 | (714) 519-3690 | cupidsoc.com |
| Myungrang Hot Dog Buena Park | 6940 Beach Blvd, Buena Park, CA 90621 | (714) 752-6390 | myungrangamerica.com |
| Mustard's Chicago Style Eatery | 3630 Katella Ave, Los Alamitos, CA 90720 | (562) 598-1662 | mustards-Chicago-style-eatery.business.site/?utm_source=gmb&utm_medium=referral |
| Wursthaus | 305 E 4TH ST #106 SANTA ANA, CA 92701 | (714) 760-4333 | http://wursthaussantaana.com/ |
| Dragon Dogs | 2210 E Orangewood Ave, Anaheim, CA 92806 | (323) 573-9751 | http://dragondogshotdog.com/ |
| Joe Schmoe's | 5123 Ball Rd, Cypress, CA 90630 | (714) 527-4310 | joeschmoes.com |
| Lazy Dog Restaurant & Bar | 1623 W Katella Ave, Orange, CA 92867 | (714) 769-7020 | lazydogrestaurants.com |
| The Stand "American Classics Redefined" | 5633 Alton Pkwy #200, Irvine, CA 92618 | (949) 262-9090 | thestand.com |
| Pluto's Dog House | 1313 S Harbor Blvd, Anaheim, CA 92802 Inside Disneyland | (714) 781-4636 | |
| Jane's Corndogs | 600 E Bay Ave, Newport Beach, CA 92661 | (949) 673-4844 | |
| The Viking Truck | Their website has a schedule | (714) 369-9800 | thevikingtruck.com |
| Crocker's | 211 Marine Ave, Newport Beach, CA 92662 | (949) 572-9293 | crockersthewelldressedfrank.com |
| Award Wieners | 1313 Disneyland Dr, Anaheim, CA 92802 inside California adventure | (714) 781-4636 | |
| bunz | 7491 Center Ave, Huntington Beach, CA 92647 | (714) 766-7060 | bunzburgerco.com |