THE BEST IRISH COFFEE IN ORANGE COUNTY
IRISH COFFEE IN ORANGE COUNTY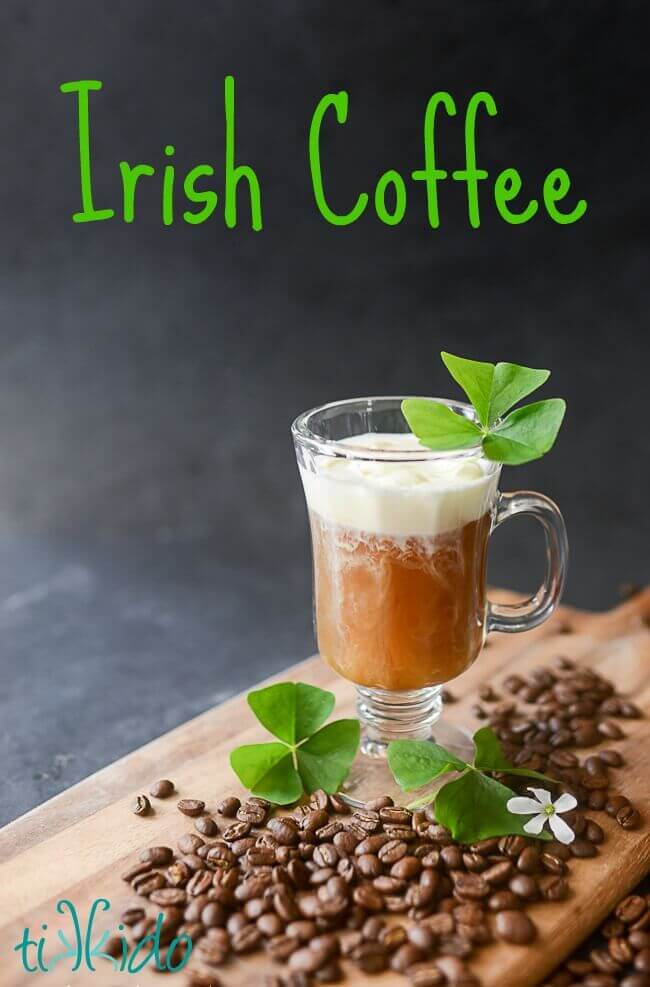 In honor of all you Orange County Lads & Lassy's, we're listing places that offer Irish Coffee in Orange County. Irish Coffee is always a favorite way of ending a nice meal or warming up on a cold evening.
Several places claim to have developed the modern recipe in the 1950s. One version is attributed to a Joe Sheridan, head chef at the restaurant and coffee shop in the Foynes Airbase Flying boat terminal, in Foynes, Ireland. In 1942 or 1943 he added whiskey to the coffee of some of the disembarking passengers.
Stanton Delaplane, a travel writer for the San Francisco Chronicle, maintains he brought the Irish coffee recipe to the United States after drinking it at Shannon Airport. He says that he worked with the Buena Vista Cafe in San Francisco and they started serving it on November 10, 1952. Chef Sheridan later emigrated to the U.S. and worked at the Buena Vista Cafe.
If you are looking for a delicious Irish Coffee in Orange County, check out our list below.  If you'd like to add one to the list, let us know.  And if you go, please let them know you saw them on My Local OC.  This is just one more way that we at My Local OC are serving the OC Lifestyle.  "See You Around the OC!"
If you'd like to make it at home….here's the "original" recipe courtesy of Barman Dara Cruise, Four Seasons Hotel, Dublin, Ireland
Level:
Easy
Total:
10 min
Prep:
5 min
Cook:
5 min
Yield:
1 serving
1 cup freshly brewed hot coffee
1 tablespoon brown sugar
1 jigger Irish whiskey (1 1/2 ounces or 3tablespoons)
Heavy cream, slightly whipped
Fill footed mug or a mug with hot water to preheat it, then empty. Pour piping hot coffee into warmed glass until it is about 3/4 full. Add the brown sugar and stir until completely dissolved. Blend in Irish Whiskey. Top with the whipped heavy cream by pouring gently over back of spoon. Serve hot.
Written by:  Patricia Braun – Publisher My Local OC
Research Assistant:  Erica Johnson
IRISH COFFEE IN ORANGE COUNTY
Brea     Macallans Public House     330 W Birch St     (714) 529-1224     Website
Costa Mesa     Durty Nellys     2915 Redhill Ave     714-957-1951     Website
Costa Mesa     Hennessey's Tavern     1773 Newport Blvd     (949) 688-1123     Website
Costa Mesa     The Harp Inn     130 E 17th St      (949) 646-8855     Website
Costa Mesa     Patrick's Pub     2645 Harbor Blvd     (714) 966-2721
Dana Point    Hennessey's Tavern    34111 La Plaza    (949) 488- 0121    Website
Fountain Valley     Silky Sullivan's Restaurant & Irish Pub     10201 Slater Ave     (714) 963-2718     Website
Fountain Valley     Blarney Stone     11761 Edinger Ave     (714) 775-9987
Huntington Beach     Killarney's Irish Pub     209 Main St      (714) 536-7887     Website
Huntington Beach     The Irishman      424 Olive Ave     (714) 536-6776     Website
Huntington Beach     O'Connell's Sports Pub & Grille     19047 Bushard St     (714) 964-6741     Website
Laguna Beach     Hennessey's Tavern     213 Ocean Ave     (949) 494-2743     Website
Laguna Nigel     The Original Patsy's Irish Pub     28971 Golden Lantern     (949) 249-2604     Website
Mission Viejo     Patsy's     25571 Jeronimo Rd     (949) 587-0253     Website
Mission Viejo     Mulleady's Sports Pub & Grill     27695 Santa Margarita Pkwy # B     (949) 380-3752     Website
Mission Viejo     Dublin 4 Gastropub     26342 Oso Pkwy     (949) 582-0026     Website
Mission Viejo     Pub Thirty Two     23962 Alicia Pkwy     (949) 716-0687     Website
Newport Beach     Muldoon's Irish Pub     202 Newport Center Dr     (949) 640-4110     Website
Newport Beach     Malarky's Irish Pub     3011 Newport Blvd      (949) 675-2340     Website
Newport Beach     Shamrock Bar & Grill     2633 West Coast Hwy C     (949) 631-5633
Orange     O'Hara's Pub     150 N Glassell St     (714) 532-9264
Placentia     Kelly's Korner Tavern     907 E Yorba Linda Blvd      (714) 961-9396     Website
San Clemente     Blooms Irish Pub     2391 S El Camino Real     (949) 218-0120     Website
San Juan Capistrano     Paddy's Station     26701 Verdugo St Suite B     (949) 661-3400     Website
Seal Beach     O'Malley's On Main     140 Main St     (562) 430-0631     Website
***Not responsible for errors & ommissions
You might also enjoy "The Best Wine Bars in Orange County."