THE BEST PIES IN ORANGE COUNTY
THE BEST PIES IN ORANGE COUNTY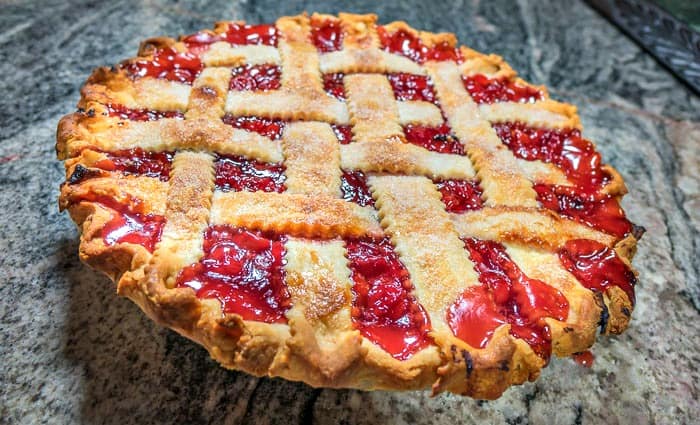 Hey Orange County, in honor of President's day, we asked you for the Best Pie in Orange County locations, and you came up with some great suggestions.  Below, please find a list of local Orange County stores and restaurants, that according to you, serve up the best pie in Orange County.  Thanks for participating.  And if you have a favorite that isn't listed, let us know, and we'll add it.  "See you around the OC!"
A BRIEF HISTORY OF PRESIDENT'S DAY
Presidents' Day is a Federal holiday, celebrated on the third Monday of February to honor all persons who served as president of the United States.
Originally it honored President George Washington and was always on the 22nd of February. It was implemented by an Act of Congress in 1879. In 1968, an Act passed, which officially took effect in 1971, following an executive order from President Richard M. Nixon which shifted the fixed date of February 22nd, to the third Monday of February, and the name was changed from Washington's Birthday, to President's Day.
HAPPY PRESIDENT'S DAY FROM THE TEAM @ MY LOCAL OC!
A LIST OF THE BEST PIES IN ORANGE COUNTY
Anaheim     Coco's     1100 West Katella Ave     (714) 772-0414     Website
Brea     Coco's     1250 East Imperial Hwy     (714) 990-0671     Website
Brea     Sprouts     735 E Birch St     714-482-1000     Website
Buena Park     Mrs. Knott's Farm Bakery     8039 Beach Blvd.     (714) 220-5200     Website
Costa Mesa     Coco's     2750 Harbor Blvd     (714) 549-1289     Website 
Costa Mesa     Piecemakers Country Store     1720 Adams Ave     (714) 641-3112      Website
Costa Mesa     Pop Pie Co.     270 E. 17th Street, Suite 17      (949) 524-3015     Website
Costa Mesa     Sprouts     3030 Harbor Blvd     714-751-6399     Website
Costa Mesa     The Keto Bakery Box Pick-up Location     350 Clinton St.     714-922-5386     Website
Costa Mesa     Toast Kitchen and Bakery     ​​1767 Newport Blvd     949.873.5057     Website
Cypress     Costco     5401 Katella Ave     (562) 668-5150     Website
Fountain Valley     Costco     17900 Newhope St     (714) 338-2183     Website
Fountain Valley     Marie Callender's     18889 Brookhurst St    (714) 963-6791     Website
Fullerton     Costco     900 S Harbor Blvd     (714) 738-7521     Website
Fullerton     Polly's Pies     136 N. Raymond     (714) 526-7741     Website
Fullerton     Sprouts     1447 South Harbor Blvd     714-441-1233    Website
Garden Grove     Coco's     12032 Harbor Blvd     (714) 750-7477     Website
Garden Grove     Costco     11000 Garden Grove Blvd     (714) 638-6308     Website
Garden Grove     Marie Callender's     13252 Brookhurst St     (714) 537-0801     Website
Huntington Beach     Costco     7562 Center Ave     (714) 372-7510     Website
Huntington Beach     Polly's Pies     9791 Adams Ave     (714) 964-4424     Website
Huntington Beach     Sprouts     6942 Warner Ave     714-369-1160     Website
Irvine     Costco     115 Technology Dr      (949) 453-0435     Website
Irvine     Sprouts     3775 Alton Pkwy     949-705-5435     Website
La Habra     Sprouts     1431 W Imperial Hwy     562-265-2151     Website
La Habra     Costco     101 N Beach Blvd     (562) 524-0001     Website
La Habra     Marie Callender's     340 E. Whittier Blvd    (562) 691-0705     Website
Ladera Ranch     Corky's Kitchen and Bakery     27522 Antonio Pwky Suite #P-1     (949) 364-4439     Website
Laguna Hills     Coco's     23000 Lake Forest Dr     (949) 458-8389     Website
Laguna Hills     Polly's Pies     23701 Moulton Pkwy     (949) 380-8383     Website
Laguna Niguel   Costco  27220 Heather Ridge, Laguna Niguel, CA 92677  (949) 389-8703  Website
Los Alamitos     Polly's Pies     3464 Katella     (562) 430-4541     Website
Mission Viejo     Coco's    28502 Marguerite Pwky      (949) 364-5915     Website
Orange     Marie Callender's     307 E. Katella Ave     (714) 633-3112     Website
Orange     Polly's Pies     2025 N. Tustin     (714) 637-3040     Website
Orange     Sprouts     1500 E. Village Way, Suite #2279     714-464-1060     Website
Placentia     The Keto Bakery Box Pick-up Location     109 W Santa Fe     714-922-5386     Website
San Clemente     Sprouts     550 Camino De Estrella     949-542-1036     Website
San Juan Capistrano     Marie Callender's     31791 Del Obispo St     (949) 661-5977     Website
Santa Ana     La Chiquita Market     902 E Washington Ave     (714) 558-8381
Santa Ana     Polly's Pies     2660 N. Main St.     (714) 547-9681     Website
Seal Beach     Hof's Hut     12489 Seal Beach Blvd     (562) 799-9552     Website
Tustin     Costco     2655 El Camino Real     (714) 838-7895     Website
Tustin     Costco     2700 Park Ave     (714) 338-1933     Website
Tustin     Sprouts     3011 El Camino Real     714-734-8760     Website
Westminster     Costco     13225 Beach Blvd     (657) 400-7006     Website
Yorba Linda     Costco     22633 Savi Ranch Pwky     (714) 282-6650     Website
Yorba Linda     Polly's Pies     18132 Imperial Hwy     (714) 572-9679     Website